Most of Prof. Fowler's courses include research modules, and some (like the WMP Lab Course, Govt378) include semester long research projects. Some of this research has moved beyond the classroom to conference presentations, publications and occasionally grant proposals. Below are just a few examples of the work being done.
Fall 2019 – Govt366 Empirical Methods for Political Science

Students enrolled in the fall 2019 section of Empirical Methods along with tutorial students supervised by Prof. Dancey conducted an exit poll of Middletown voters during the municipal election in November and analyzed the data for a class assignment.
Fall 2019 – Govt372 Political Communication in a Polarized Age

Students enrolled in the fall 2019 seminar, "Political Communication in a Polarized Age," wrote and analyzed their own survey of Wesleyan students and then conducted their own survey experiments for their final papers. The results of the baseline Wesleyan student survey are available here (for coverage in the The Wesleyan Argus, see here).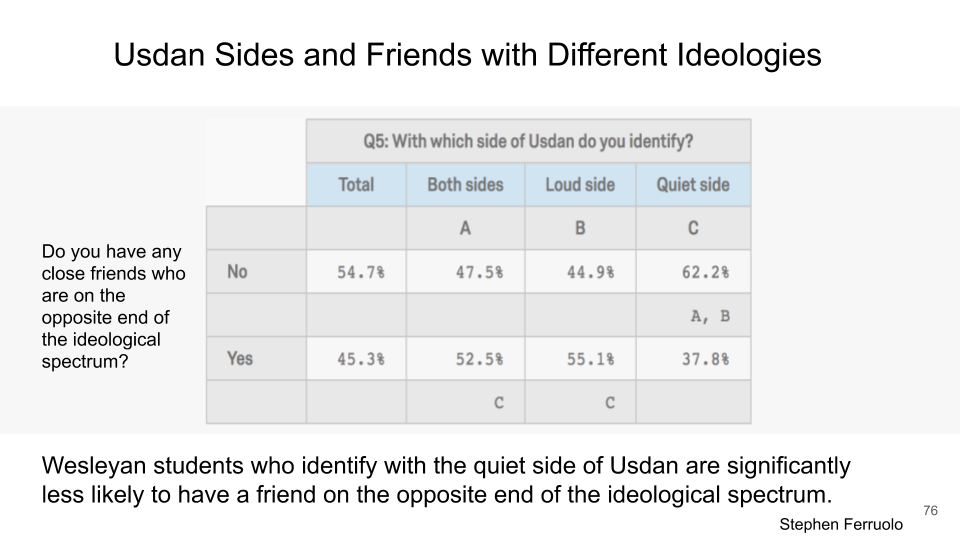 Fall 2018 – Govt378 In-Depth Studies of Campaign Advertising Topics
Students enrolled in the fall 2018 section of WMP's Lab Course, Govt378, took an in-depth look at the content of advertising messaging on four separate issues during the 2018 midterm elections: health care, immigration, taxes and guns in ads. Each of the four student groups developed, programmed and rigorously tested their own coding instrument, analyzing intercoder reliability as they went along, and then wrote up real-time reports using maps and/or graphics produced by each student team. WMP was proud to release their initial reports on Election Day and to feature their poster presentations at our 2018 post-election conference on Wesleyan's campus. You can read their reports here.
Fall 2013 – Govt378 Study of Local TV Coverage of the Roll-Out of the Affordable Care Act
Students enrolled in the first section of WMP's Lab Course, Govt378, analyzed local television news coverage discussing the first few days of the first open enrollment period for the Affordable Care Act and noticed an interesting difference between states that were running their own exchanges and states that were relying on the federal exchange. Based on these observations, WMP launched pilot work where the lab students helped develop a coding instrument that they used to train 40 additional Wesleyan students over fall break to analyze local television news content from across the country. The results of this analysis were eventually published in the Journal of Health Politics, Policy and Law.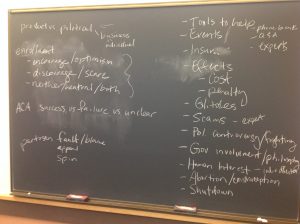 Fall 2013 – Govt378 Study of Ordinary Messengers in Campaign Ads
Four students enrolled in the first section of WMP's Lab Course, Govt378, noticed that the literature on credibility talks mostly about elite spokespeople and yet most of the campaign ads they were analyzing featured ordinary individuals conveying messages. Based on this observation, they performed some original coding of WMP ads and combined their work with advertising ratings data, finding that the use of average spokespeople correlated with higher ratings. Over the summer, they turned this research into a paper that they then presented at the 2013 Annual Meeting of the American Political Science Association Conference in Washington, DC. The Wesleyan Connection wrote about their work here.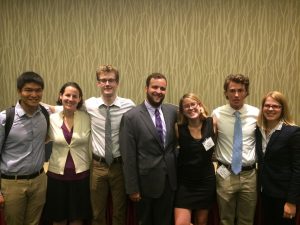 Spring 2010 – Govt214 Study of Local Television News Content

More Americans report using local television news than any other news source, including cable, network, print, and internet sources (Pew Center 2008).  For eight weeks in Spring 2010, students in Govt214 tracked local television news across the country and compared it to coverage on other sources. Our results revealed vast differences in the content of public affairs information between local TV and other sources to include local print sources.
Summer and Other Research is described here.